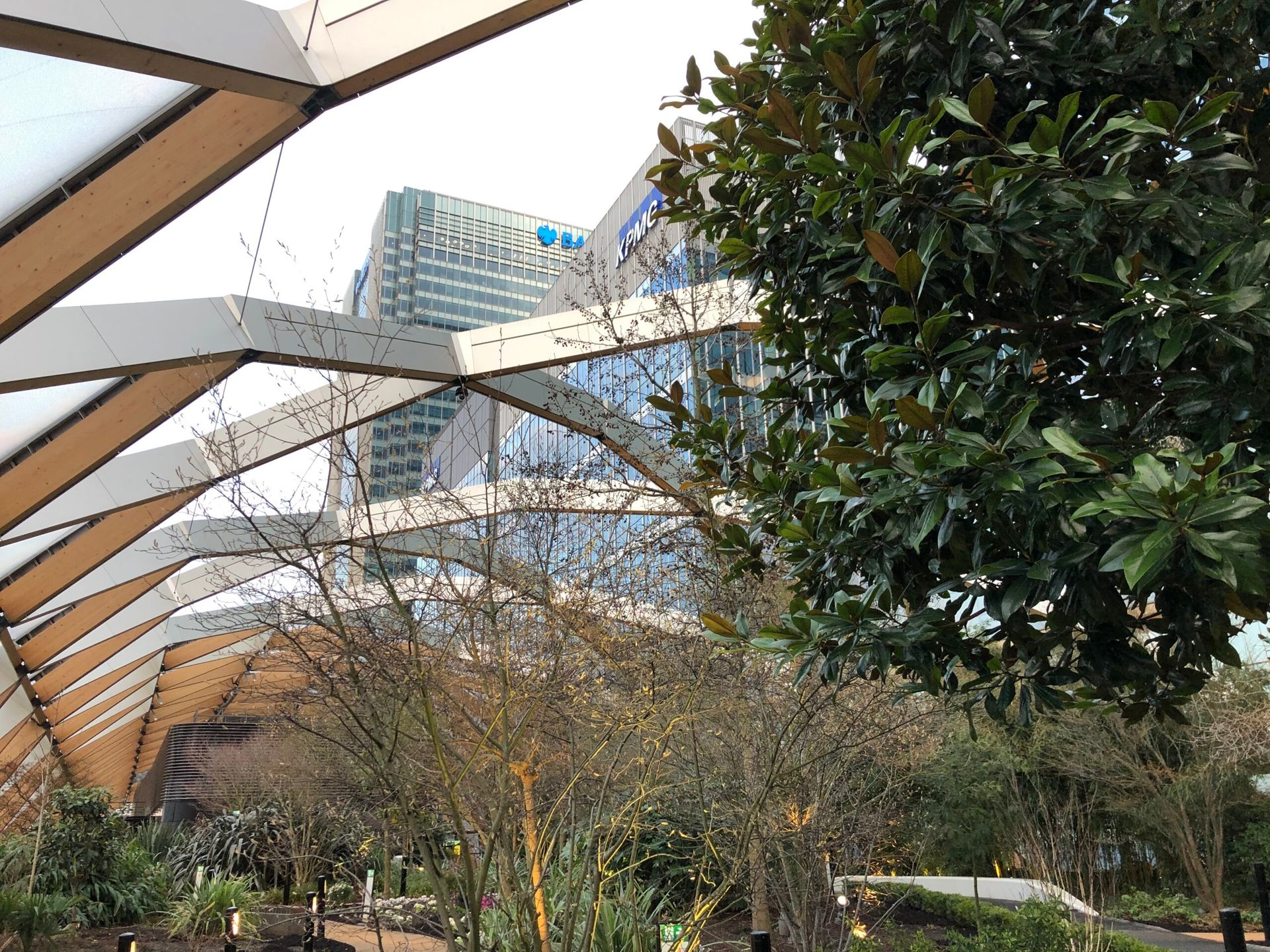 Crossrail Roof Garden

What I hadn't expected was the birds singing in chorus and flying through this inside outside space.
The whole place under the arches of this geodesic dome reminds me of a sci-fi future depicted in films like Silent Running.
One day I popped to the Bupa health clinic in Canary Wharf to get a covid-19 antibody test. Turns out I've never had it, but I was convinced, 70% certain at least, I'd had it once, maybe twice. I guess all that shielding at home worked, or the test is inaccurate, or the antibodies had worn out.
£65 quid perhaps wasted, but I would've been excited if I had had covid. Plus I had a bet with my girlfriend that I'd had it. A bet I lost.
But upstairs from the Bupa clinic was the wonderful Crossrail Place Roof Garden. It made the £65 well worth it and a lovely sight for sore eyes after all that 2020 social distancing and lockdown.
After that experience I'd say if you're going on a long term space voyage… to Mars or wherever… I do recommend taking one of those ones with the greenhouse on top because being there in a two bed flat would kind of suck.
Tomorrow I get the vaccine so my journey is nearly over. Quarantine, it turns out, was less like sci-fi alien attacks and involved a lot more terrifying trips to Lidl supermarket and tedious Zoom video conference calls.
As I step onto the nearby Docklands Light Railway, an unmanned two-railed monorail dubbed by my girlfriend as the crappest rollercoaster you'll ever ride, I realise we are living in the future.
Update – 23 January 2023:
I went to the Canary Wharf Winter Lights festival. It was lovely to see the roof garden all lit up.
The festival itself was nice but way too busy. We went on a Saturday – avoid weekends – particularly if you fancy buying a pint. Not something you normally have to say about Canary Wharf. Normally it's dead at the weekends, and I find, a good skateboarding spot for that reason. (There was one day I visited Urban Farm in Mudchute, and had a lovely day, giving two fingers to the Canary Wharf skyscrapers in the distance.) Nobody lives there, because it's too bloody expensive and full of bankers.