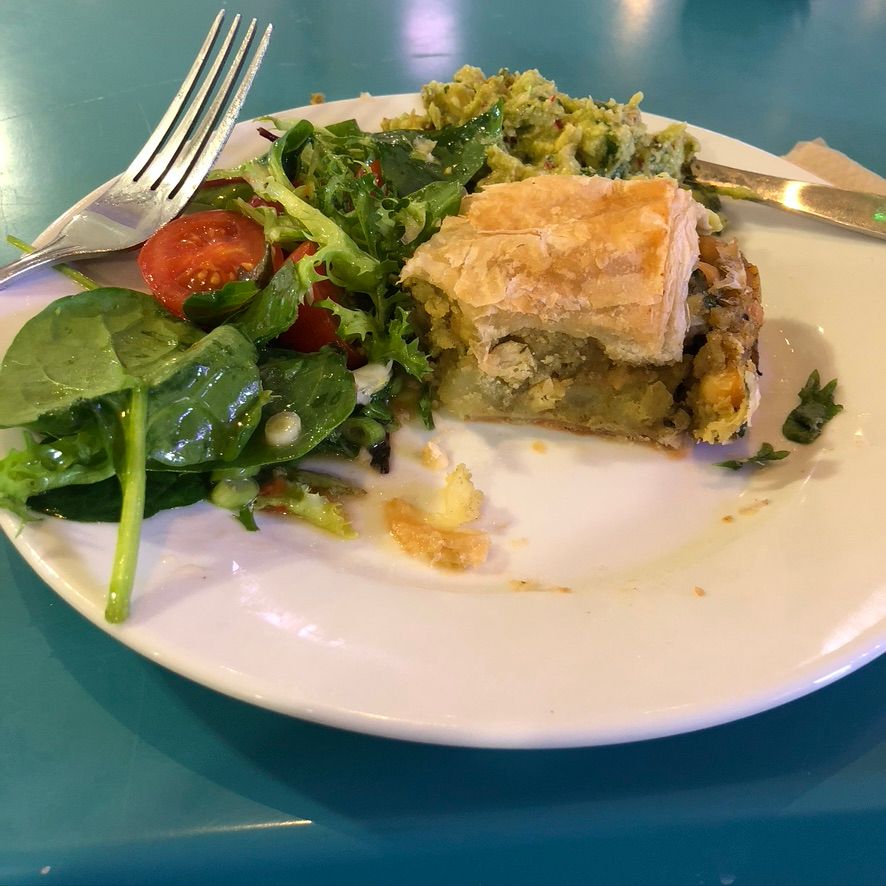 The Albany
This arts centre is my new favourite mid-week lunch spot.
There's normally some community event going on in the cafe: old people knitting, unemployed people working on their CVs, yummy mummies feeding babies.
That sort of wholesome thing that gets you out of your worrisome head for a while, and gives you a warm feeling of being connected to the community and there being good in the world.
Meet Me At The Albany
Especially recommended is Tuesday lunchtimes when the 'Meet Me At The Albany' project is on.
Old people from the local neighbourhood are bussed in, and they have a nice few hours on a Tuesday, eating a healthy meal in the cafe while doing arts and crafts and chatting with each other and the volunteers. One old boy occasionally will spontaneously break into song, some old wartime music hall tune perhaps.
Sometimes they have a minute's silence for a regular who can't make it this week because they are ill and have been taken in to hospital. Sometimes the minute's silence is because a member has moved on to the big Meet Me At The Albany in the sky.
I'm not religious, but if there is a heaven, I imagine it's something like this.
The Garden
Beautiful flowers in the Summer, including enormous sunflowers, a wonderful place for lunch, a nap, or a wonder.
You can volunteer to help grow vegetables on Thursdays, if you don't fancy waiting for an allotment of your own on the 7 year council waiting list.
The cafe WiFi just about works on the picknic tables nearest the doors.
Occasionally the ambience is overrun by a load thespian types talking loudly. But that's the risk you take at an arts centre.
Cafe
There's not many places in London where a quality home cooked meal (including some ingredients home-grown in their garden) can be bought for only about a fiver (£5.)
It gets pretty noisy around lunch-time, school kicking out time, and when the cafe staff member who likes reggae is working.
Best avoided on weekends when the chef is off and they only sell leftovers.
(Or after about 2.30pm when they run out of the fresh food specials, and you're left with the suspicious looking 'nandwiches' – the bastard love child of a sandwich and an onion bargie.)
---
It's worth checking out the garden while you still can (still open as of Summer of 2020.)
Apparently there are plans to build luxury flats on it, the rent on which will sustain The Albany for years to come, the ex-politician chair of the board says.
I suppose you can't stop progress, but it seems a shame to lose this secret garden, and put up more luxury flats like's happening in all the rest of South London.
[Advert – Gagbog.com comedy channel]
[End of Advert]
UPDATE 2020-02-25:
Actually, I've seen the plans and they look quite good.
Apparently they needed a cool 8 million just to do up the ageing quirky (70's?) building which has no square rooms, only hexagons.
They thought if they are doing it up anyway, they might as well be more ambitious, build a second theatre, co-working space, and pop the garden on the roof and build flats to pay for it.
I asked if they could also, while they are at it, add a small, dark cramped room for new-act comedy. The grand new theatre looks far too proper for people to laugh. I don't know yet if the budget will stretch to that. They mentioned something about repurposing an old lift.