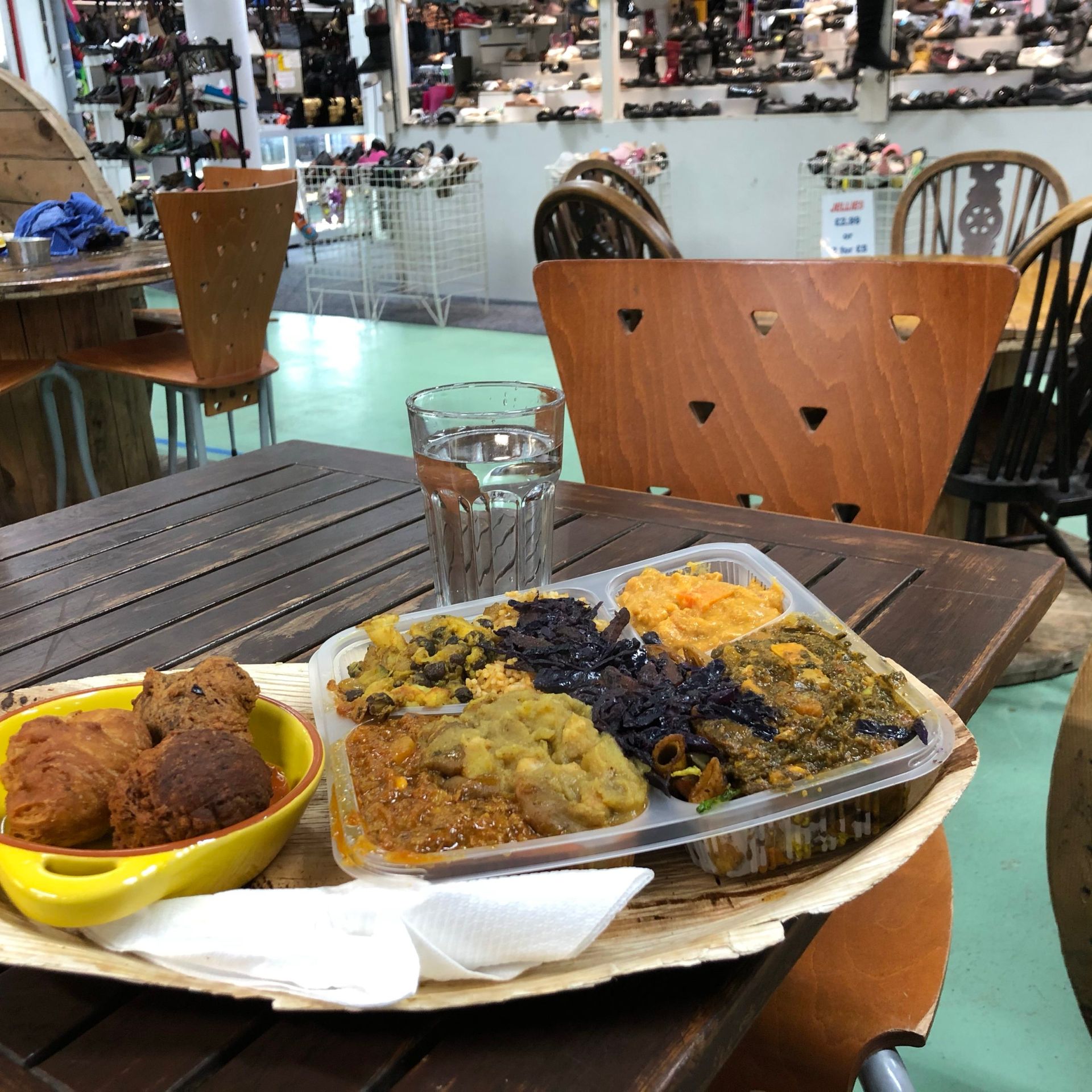 Vegan Rasta
Imagine a Rastafarian. In a tall turban serving vegan mutton curry. Standing in a shopping centre that feels like one you'd find on a year-off travelling the world… and you are not far off.
The Zionly Vegan Restaurant in Peckham is run by the 'Vegan Rasta' who wears a variety of colourful turban head wraps.
There's no written menu because it changes twice daily apparently.
Instead the charismatic and passionate 'Vegan Rasta' chef proprietor describes each of the ten or so dishes in turn, to every customer.
With that amount of explaining, it's amazing he has time to cook.
As I was embarking on my third day of a veganuary (I started a few days late, my first work lunch break) faced with such a complicated array of options, I plumped for the simple option of 'bit of everything for ten quid' platter. (A £6 option, and a smaller one is also available, as of Jan 2020.)
I wasn't disappointed, the food was excellent, especially the peanut-butter satay dish.
I chomped it down.
Apparently the chef has been snapped up by a Peckham business accelerator and might be the next Reggae Reggae Sauce guy – but vegan.
It's early days, the cafe is still a bit cluttered and chaotic, I wasn't sure if that's because of Christmas, but the mop and bucket by the drink stand looked like a permanent feature.
At least they mop the floor, I thought. Hygiene I expect is good, not least because the chef was immaculately turned out, especially his three foot tall green turban.
After chomping for a good while, I started to feel a bit bloated. The £10 platter prison-style tray is a lot bigger than it looks.
And I'm still getting used to vegan, veganuary, January food.
I might bring my girlfriend here on a date next time and share the platter, with some other bits.
You'd just about get away with a quirky date here. The main downside is the clashing pop music from several other market shops.
Zionly's taste in music, when it was on, was excellent, as is the taste of the food. Just consume slowly, and savour it.