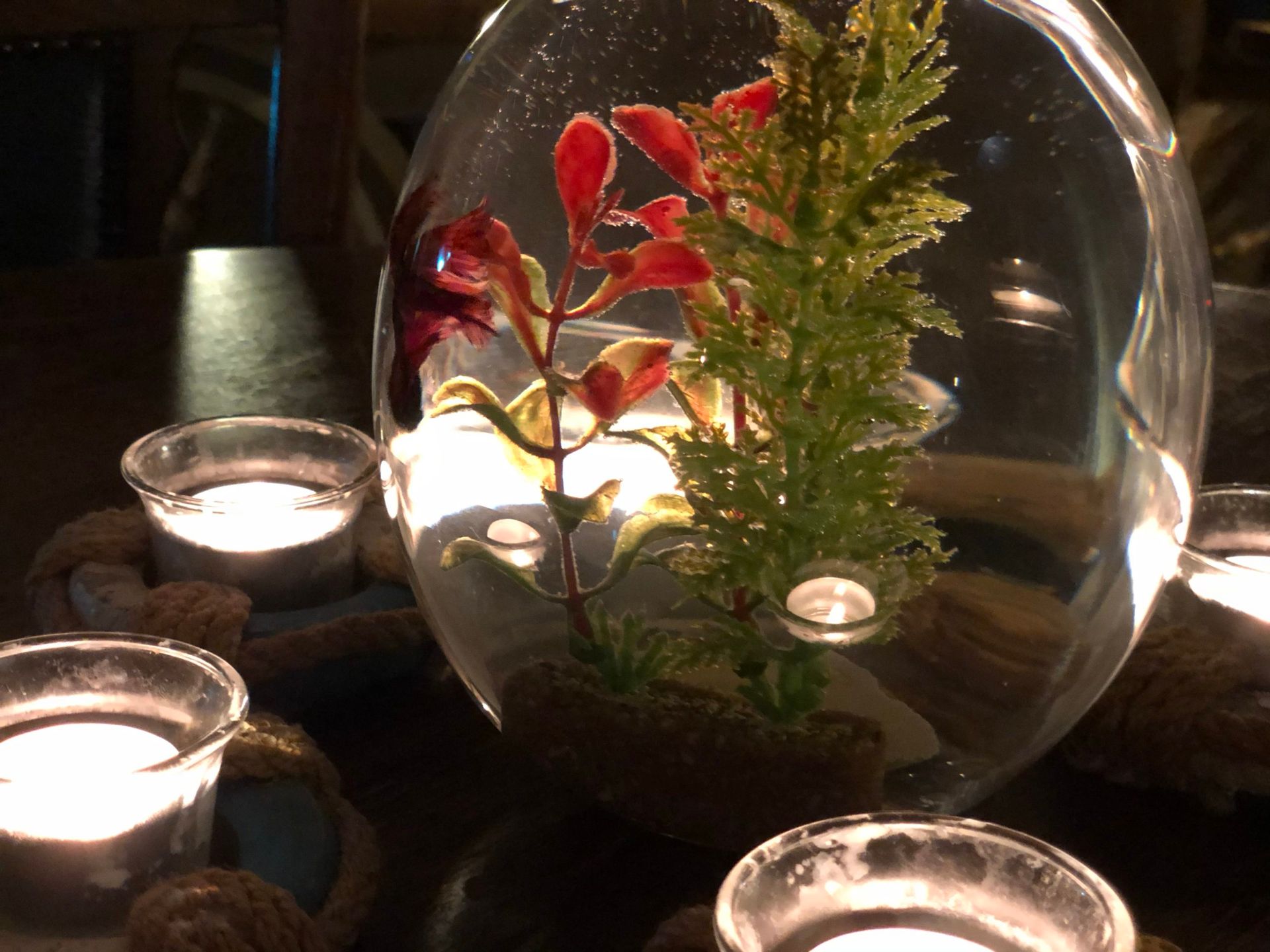 Dzintara Cela
Wandering the old town of Riga, Latvia, you feel like there is a quirky restaurant round every corner, and Dzintara Cela taverna fish restaurant is no exception.
It was the pinnacle of quirkiness on our Latvian excursion. From the fishbowls on the tables with real fish, to the traditional Latvian music versions of British rock tunes, to the waiter dressed as a sailor, who seemed utterly unenthusiastic despite the cartoon atmosphere. Probably he was too concerned with sailing the ship.
There's a treasure box in one corner, sailor hats, perhaps to dress up in, outside the loo throne, and none of the sets of chairs from table to table match. One table has wedding chairs.
On descending the stairs into this low-ceilinged basement, you are transferred into another world of Kitch, and pirates, and you wouldn't be surprised to find a Latvian old Jack Sparrow in the corner drinking the Latvian national grog Riga Black Balsam & hot black currant juice (avoid the neat option.)
The one thing that isn't a quirky joke is the food, which is excellent. The seafood soup is to die for, especially if you've ever ordered mussels and thought the juice at the end is the best part.
Five stars ⭐️⭐️⭐️⭐️⭐️.
---
While in Riga old town district also be sure to wonder around, like Alice down the Rabbit Hole, to discover the Black Magic cafe secret bookcase door, the art nouveau heads of 10B Elizabetes Iela, the Cabbage Flowers on street corners, themed bars of (70's disco, heavy metal, 50's Cadillac diner, the self-titled 'most romantic bar in Riga (it was), and any other number of quirky curiosities, it felt, through any door or archway, of this town well deserving of the honorary title of a Newcrossity.
Under the tallest spire you can have a try at archery for €5 for 12 arrows (2019 price) with minimal safety netting, and the jovial instructors will invite you back to have another go later after a couple of drinks. Giving drunk people bows and arrows in a city seems like a terrible idea, but the instructors said you'll do better once you've loosened up after a couple of drinks so apparently it's like playing pool.
If you want to see the actual tourist sites, and not the new curiosities, go to the Blackhead museum, tour the game of thrones basement, relax on the bed carved into rock watching a local David Bowie Labyrinth ball gown dancing home video.
Then head upstairs to the 5D chair rollercoaster ride, which flies you round Riga on a virtual tour, saving you having to actually go to them yourselves and leaving you more time to stumble across the Latvian Kendama championship in a food market in a zeppelin hanger (the cheese one of five) and join the unicorn challenge.